Welcome to Swish
Tired of GroupMe, huge text chats and messy messaging?
Tired of confusing and long text messages?
Like to avoid the awkward "sorry, I already filled the spot" text?
All the benefits of messaging, organization, details and contacts in one app.
Need one more for your pick up game?
Want a better way to run your tournaments…paper free?
Would you like to see who's in and who's not in one view?
Welcome to SWISH
ORGANIZE PLAY
Tired of the crazy group texts with 50+ people and after trying to organize your 2 courts of pickleball, the only thing you know for sure is that everyone is going to donuts at SideCar afterward!
Swish can fix that! Simply create a game, enter the basic details, invite your group of people and everyone is notified of a game with 8 spots on the set date/time/location. Your friends can grab the open spots and when all 8 are full, the others interested can only join the waitlist (they'll be notified automatically if a spot opens up –you don't have to do a thing!!).
With Swish, you can set an exact number of players, have an automated waitlist, see who's in, who's not, who hasn't responded, and remind them to respond, in one click. An auto-generated game feed creates a text sub-group for just those playing (no unnecessary texts).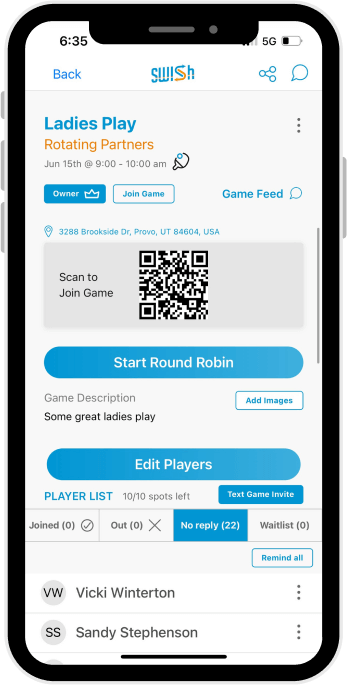 SWISH CAN FIX THAT
INTRO TO THE SWISH APP
SWISH CAN RUN YOUR TOURNAMENTS AND MORE
Swish automates tournaments! No more printing spreadsheets, searching for volunteers to take scores, or calculating complicated round robins or brackets! Swish does it all for you, on your phone or iPad. That's right – simply scan in your participants with the auto-generated QR code for reach division, add or delete teams on the spot in seconds, click the auto-generated round robin button, and the round robin is perfectly generated for each division. Players input their scores, see their court assignments, opponents' names, and even a leaderboard, all on their own phones. Tournament hosts can view this all and make changes as needed. Perfect brackets are created based on your leaderboard standings after any number of rounds you choose. Players love the info at their fingertips and hosts love the ease of it all.
SWISH Pickleball Tournaments
AUTO-GENERATED FORMATS
Whether you playing with the neighbors or hosting a tournament, the swish auto-generated formats make it all so easy. Regular play is always an option too.
Rotating partner or set partner round robins are created in one click. Your entire group, any size, adjustable on the spot, (so you can accommodate those last-minute no-shows or extras instantly) can be put into a perfectly organized round robin, literally in one click. Players swipe to see court assignments (adjustable), and opponents, then enter their own scores and swipe to see the next round. Swipe to the end to see the constantly updating leaderboard. Total points or Win/Loss ratio options to determine winner, or one-click "create bracket" to autogenerate a seeded bracket to continue onto a tournament format.
The new popular pro-style,4-person team format is also on the app. Great for social play, team style, with the fancy tiebreaker on the app too.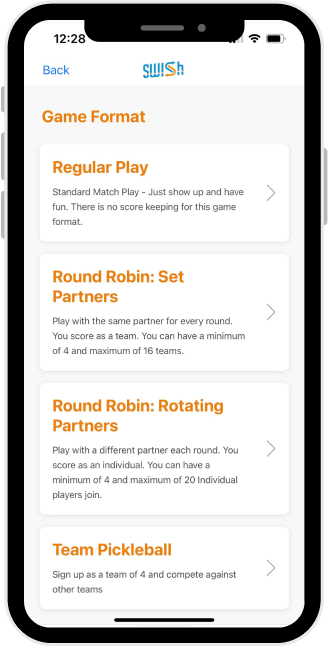 Round Robins on the Swish App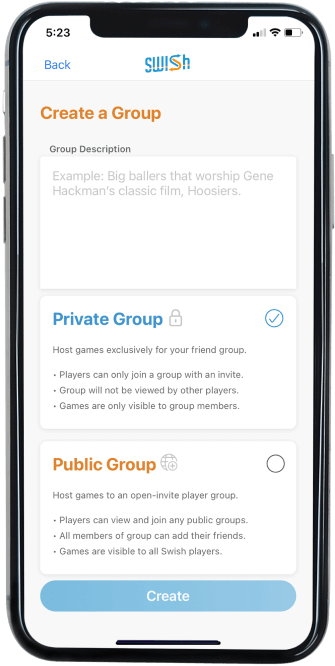 PRIVATE GROUPS
Like to play with the same group each week, SWISH Private Groups allows you to host a group only seen by those you invite to the group…private group chats, private group games, plus all the benefits of swish details and organization.
PUBLIC GROUPS
Want to reach as many people as possible? Need 3 more players? Want to find new opponents or new teammates? Create a SWISH Public Group and access the entire SWISH network to increase your numbers. Public groups can be joined by any SWISH user. When you create a public group game, SWISH instantly invites them all, yet provides boundaries you set for size, level, and all other details.
MULTI-SPORT VERSATILITY
With the new game creation format, SWISH enables use in any and every sport. Enjoy the clear visible organization and broad network of players in SWISH for any sport you choose. We have pickleball, basketball, soccer, round net, tennis, frisbee golf, flag football, golf, and more. We see explosive growth in pickleball users, hence the features specific to that sport like auto-generated round robins, pro-style team matchups, etc.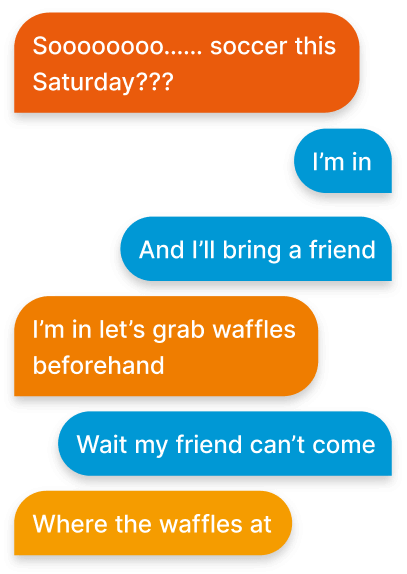 MESSAGING
SWISH now offers messaging to private groups, public groups, individuals…anything. Stay in touch with new players, opponents, coaches, any swish member. An easy way to build your new network and sports community.
Past games stay in your profile, allowing you to go back, see who you played in the third round of that round-robin last week, and click on the 3 dots to message them and invite them to be your fourth this week. Swish makes networking easy!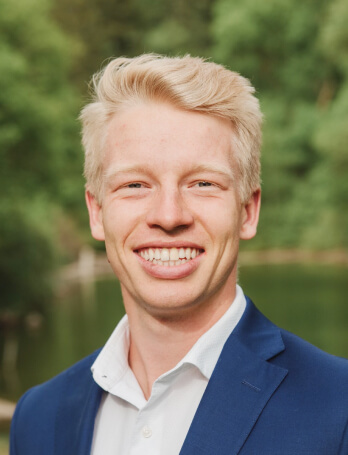 The SWISH Story
Mark, CEO and Founder
Having grown up in Southern California, playing sports is one of Mark Tenney's favorite pastimes. After struggling month after month to find quality pick-up basketball games, Mark started to draw up his ideal app for finding pick-up sports games. Before long, a team of developers, marketers, and coding consultants came together, and the Swish project was underway. Having expanded beyond basketball and into all sports, the Swish app now serves to organize all pick-up sports. And with pickleball players asking for more features, you'll find organizing daily play, running tournaments and even team events all easily run on the app now. Mark has become well known in the pickleball world as he listens to players needs and creates amazing solutions on the Swish app! And although his wife is super busy teaching, studying and recording promotional material for major companies on her cello, she still finds time to play some pickleball with Mark!